About Peter
A short profile of Peter, and summary of his story so far…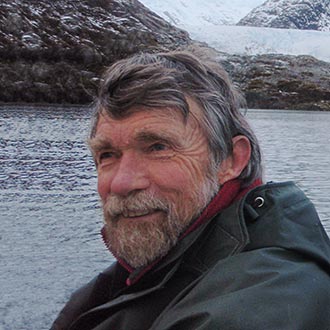 Peter Smith is a New Zealand boat builder, long distance cruiser and offshore sailor, and designer of the Rocna anchor range. He currently is living and cruising on his custom-designed self-built yacht, Kiwi Roa. The result of Peter's lifelong experience both racing and long distance cruising, she's a 15.5 m (52′) sloop built from 10 mm aluminium alloy plate (up to 25 mm in some sections), displacing 27 tonnes, built to go anywhere and handle the worst that the seas of this planet can throw at her.
Peter's recent voyaging includes the 5,500 nautical mile passage across the torrid Southern Ocean from New Zealand to Chile. He's spent three years exploring Patagonia and Tierra del Fuego, Antarctica, and the South Atlantic islands of the Falklands and South Georgia.
You can e-mail Peter using the contact page.
Biography
Peter, born 1947, has been a keen sailor since his preteen days, and has spent the majority of his life on the water. He co-founded and developed Cavalier Yachts, one of New Zealand's most prestigious yacht building companies for more than 15 years and the largest in the southern hemisphere at the time. Cavalier produced a range of craft sized from 23′ to 47′, and Cavalier yachts are still popular today.
This era of Peter's life also involved thousands of miles of professional ocean racing, representing himself and Cavalier's products. During the 70's, Peter and Cavalier Yachts became household names in Australasian yachting circles. These years also saw successes in international events such as the Southern Cross Cup, South Pacific and World ½ Ton Cups, New Zealand 1 Ton Cup, New Zealand's premier offshore points trophy the Rothmans Gold Cup, and more.
These performance sailing achievements were undertaken on Peter's personal yachts, generally prototype designs which acted as test-beds and publicity generators for the company. Cavalier 32 Conquero won the 200 mile South Pacific Half Ton Trophy ocean race and the Leo Bouzaid Memorial 120 mile offshore race in 1974. Peter and wife Jo then invested much of their worldly possessions in Warchild, a Chris Bouzaid design reputed to be only "a racing machine". Peter, Jo, and the boat's crew worked long hours at night and weekends to have the boat finished and sailing within three months in time for the season's racing. Peter wrote in a published article at the time: "We could not have picked a more testing series to shake down a new boat and iron out all the bugs for future racing and cruising. In just over six weeks from launching, Warchild had clocked up 1,500 miles of hard racing in winds that rarely dropped below 25–30 knots and came through it all only with some torn kites."
Throughout his performance sailing and boat building career, Peter had been nursing another dream: circumnavigation and world cruising. In July 1979 Peter left New Zealand with his wife onboard Apteryx, a Cavalier 39, to realize this ambition. Apteryx was the penultimate Cavalier, built by Peter and Jo just like her predecessors Conquero and Warchild, and took the couple all throughout the South Pacific and South East Asia. In 1982 their son was born, and the 39′er became too small. Always with new ideas, Peter began to look toward the 'ultimate' cruising yacht which could go anywhere and do anything, while comfortably housing (and being crewed by) a couple or small family.
Since then, Peter and Jo have been continuing this lifestyle, working and sailing all over the world. Peter has founded three further boat building businesses, spending four years in Papua New Guinea, one in France, and eight in England, amongst others.
Finally, Kiwi Roa was built in England; an upgrade to Apteryx, envisioned as the ultimate ocean-going home. Launched in 1994 at Ipswich, she has since clocked up over 70,000 nmi and is still going strong in the world's toughest environments. To take a tour of this expedition yacht, visit the "About Kiwi Roa" page.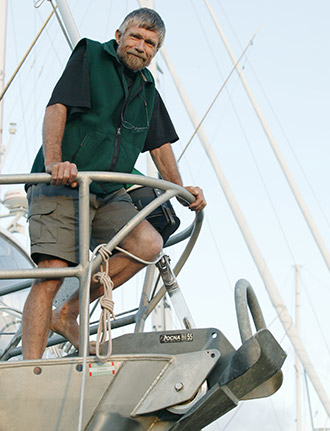 As a direct result of his lifetime of combined sailing and boatbuilding experience, Peter has amassed a formidable range of in-depth knowledge relating to international cruising boat systems. As a professional boat builder, Peter designs, engineers, and installs all of his own mechanical and electrical systems and of course also troubleshoots and maintains those systems – whether diesel, electric, or refrigeration – to the highest standards.
One particular area of boating to benefit from Peter's input has been the world of small boat anchors, with the design and development of the highly successful Rocna anchor. Possessing extensive and varied experience with all major anchor types available at the time in 2000, Peter decided that none were good enough for him, his boat, or his crew, and set himself a new project: develop the ultimate boat anchor. Initially not a commercial exercise, a prototype of the Rocna resulted, and was put to use during a highly testing year-long circumnavigation of New Zealand. Following this, Peter himself was convinced, interest from friends was high, and word-of-mouth eventually made the full commercial development of the Rocna anchor inevitable by 2004.
Peter is currently living on Kiwi Roa, out on the seven seas somewhere, and has no plans to stop cruising anytime soon.