About Kiwi Roa
A profile of Peter's custom-built yacht
Custom-designed and built by himself over a four year period in England, Kiwi Roa is the result of Peter's lifelong experience both racing and long distance cruising, not to mention professional boat-building. She's at heart an expedition yacht, a sloop built from 10 mm aluminium alloy plate (up to 25 mm in some sections), displacing 27 tonnes, built to go anywhere and handle the worst that the oceans of this planet can throw at her.
Kiwi Roa was envisioned as the ultimate ocean-going home, and Peter lives aboard on a permanent basis. Launched in 1994 at Ipswich, she has since clocked up over 80,000 nautical miles and is still going strong in some of the world's toughest environments.
Kiwi Roa is named after the great spotted variant of New Zealand's native flightless bird. A large grey kiwi seemed an appropriate metaphor for an unpainted aluminium yacht flying the New Zealand flag.
Specifications
LOA:

15.5 m (52′)

Displacement:

27 t (60,000 lb)

Draught:

1.8 m (6′)

Design:

Custom one-off Tim Drury / Peter Smith

Construction:

Aluminium plate, teak interior

Rig:

Sloop, all spars aluminium
Conception and motivation
After leaving New Zealand in 1979, Peter and Jo cruised in the Pacific and South East Asia for six years in their Cavalier 39, Apteryx. After the birth of their son in Papua New Guinea in 1982, they decided that, for a number of reasons, a larger boat would be a good idea. Apteryx did not have a dedicated cabin for a growing child, and the boat suddenly seemed to be too small. Everything that could be done in the way of improvements had been done – a new challenge was required.
There were vague ideas about doing charter work, as it seemed to fit with the preferred lifestyle, and would keep the cruising kitty topped up without having to stop and work ashore, which always had its bureaucratic problems. Peter worked on a number of boats in Papua New Guinea for expatriate owners, in all types of materials, and was coming to the conclusion that some were very much better than others.
In the time they cruised the Pacific, Peter and Jo personally knew a number of boats that had been wrecked on reefs, sunk from hitting whales or containers at sea, or simply disappeared at sea in adverse weather. This made the decision easy for selecting the material for a new boat: it had to be metal. As Peter couldn't face the maintenance problems with steel, it had to aluminium. A 'wish list' journal for the 'next boat' appeared, and every new thought or idea was written up as plans and concepts continued to be developed, even if only in the mind at this stage.
In 1984 Apteryx arrived in Brunei, where Peter and Jo met South African Gerry Noel, who was having a 47′ aluminium hull constructed in France. Peter was looking for some work at this stage; the cruising kitty was diminishing rapidly. Gerry, after looking over Apteryx, signed Peter for the completion of the building of his project in Brittany. At the same time an enthusiastic Swiss restaurateur was very keen to buy Apteryx. Soon the young family was boat-less, and on their way to a temporary land based life in France, with a big boat building project ahead.
Gerry's boat was a Dalu 47 with hull of 10 mm alloy plate, and Peter was contracted to finish it from a stage of bare hull and decks. As he worked on this contract, he became more convinced that this construction method was the way forward. The 'wish list' book became thick with ideas and must-haves. In 1986, the whole project was moved from France across the English Channel to Essex, England, on the Large Car & Truck Carrier. In 1987, established in England, Peter met with Tim Drury, a naval architect specializing in aluminium, and between them the plans for Kiwi Roa became reality.
She was built in Colchester England, in an old listed (protected) Essex barn which was being used as a boat building yard by Sammy Sampson, the Dick Carter agent for Europe, building Carter designs, until Sampson's sudden death in 1986. The Dalu 47 was finished here then Kiwi Roa built over the period 1989–1994; some 22,000 man hours compressed into 4.5 years. It is unlikely a vessel like Kiwi Roa could ever be built commercially – the man hours and detail for a boat of this size would be uneconomical and very few if any yards have the experience or the capacity for the minute-by-minute supervision required.
Specification and construction
Peter considered the ideal size for a boat to be between 40 and 44 feet (12–13.5 m), but Kiwi Roa was to be a full time live-aboard home for a family of three. Peter and Jo also intended to try chartering as a means of support, rather than having to stop and work periodically as they traveled, as they had in the past. The basic layout would be four cabins, one saloon, a walk-in engine room, a decent forepeak, and a large usable lazarette, necessitating a length of over 50′ (15 m). The bigger boat would also have a much quieter motion at sea, where Jo frequently had problems with motion sickness.
The ability to claw off a lee shore in all conditions, while carrying a full load for the cruising live-aboard lifestyle, was essential. That load was to include 1200 L of water, another 1200 L of fuel, plus up to a year's supplies.
Peter decided on a design that had a relatively deep forefoot by modern standards, to stop pounding at sea and to help stop the bow wiping off in heavy conditions; a moderate rocker with deep garboards (sections), to provide a decent bilge and stowage that was low in the boat; and a draught of no more than 6′ 6″ (2 m), with a low aspect ratio fin keel on which the boat can dry out against a wall or piles. The rudder is hung far aft on a full skeg, and is deeper than really necessary to give better low speed control in rough and stormy offshore conditions. The water line length was capped at 47′ (14.3 m), Peter not being keen on wet plumb-bow sections. The boat's designed displacement was 20 tons with 7 tons of lead in the keel, but the reality is she floats at around 25 tons fully provisioned for long periods. Offshore, the weight is little drawback due to the hull design.
After much consideration, Peter opted for a multi-chine hull from heavy plate: 10 mm up to the top chine, and 8 mm topsides. This meant the hull could be constructed from 10′ (3 m) x 25′ (7.6 m) sheets of plate, requiring only one vertical weld breaking the length of the complete hull in addition to the fore and aft chine welds. Building the alternative round-bilge hull means multiple assorted plates welded together, with the associated reduction in strength, not to mention distortion. Kiwi Roa's entire hull is constructed from 5083 aluminium in mill condition, i.e. soft, including all sections or extrusions, tubing, round bar, etc. This meant machining from solid stock many of the items required, such as rudder tubes, the stern tube, through hull nipples, and so on. Frames and stringers were cut from 5083 plate as flat bar. Frames are 150 x 10 mm, but positioned at bulkhead stations so the bulkheads could be fastened directly to the frame which therefore do not protrude into the accommodation. Using plate in milled soft condition results in greatly lessened weld distortion and stress, as well as being much more ductile in the extreme cold. Kiwi Roa's hull is very fair and has no filler above or below the water line.
The boat is unpainted from the water line up, other than a fore-and-aft hull stripe. The decks are patterned with TBS anti skid. The bottom is treated with inorganic zinc silicate produced by Meta (Lyons France), covered in two-pot polyurethane, followed with aluminium compatible antifoulings. After 15 years and 72,000 NM the original zincs are still in place and there is no sign of corrosion above or below the water.
All tankage is built into the hull, providing an effective double bottom, and centered amidships. The lead ballast is capped and welded in the bottom half of the keel where it was poured, with the fuel tank directly on top. Water tanks are placed on both sides. All tanks are accessible via inspection plates. These tanks work in with the design of the main saloon and galley, which are raised to give good visibility outside whilst standing or seated, both at sea and in harbour.
Deck, fittings, and forepeak
The deck shear rail is made from 10 mm plate with 25 mm holes drilled every 150 mm with a 20 mm solid rod capping. Cleat fairleads are built into this rail. This means blocks, fenders, snatch blocks, or anything that needs tying down can be conveniently secured. The holes are strong enough to shackle strops to and lift the boat if required, and are a feature Peter could never live without.
The cockpit is a center style, although well aft of amidships, and reasonably large for comfort. Cockpit coamings are a 'box' style providing excellent winch bases, large open lockers, plus comfortable seating. An alloy and teak seatback is mounted on the coamings at the helming position at both sides of the large diameter wheel, a favorite place for steering or just enjoying a sunset. The rigid alloy dodger comes back far enough to sit two people in comfort either side with full Perspex curved windows giving complete visibility. The cockpit forward of the wheel and under the dodger is recessed for head room and visibility. The wheel is outside but close to the dodger for frontal protection; standing height sees a clear view over top of the dodger roof but under the main boom gallows from which is hung the cockpit awning cover. This cover is attached to a permanent stainless steel pipe frame which encircles the outer cockpit coamings and provides an excellent hand support rail around the complete cockpit and aft deck area when the cover is removed at deep sea.
The decks have been designed for water catching with an effective area of 75 m². Internal drains go either overboard or to the water tanks via a set of valves positioned to form a sediment trap which flush when set to the overboard position. The cockpit is much harder to keep clean courtesy of food scraps, spills, hair, and other detritus, so is not part of this system.
The cockpit drains double as cockpit support posts and are fabricated linear in a 50x50 mm square section welded top and bottom. This means they are easy to clear and keep clean from the cockpit.
The main cockpit companionway hatch slides on stainless steel roller bearings which drop into recesses when pulled closed or open, allowing the hatch to be dogged down onto rubber gaskets for a watertight seal. When open the recess prevents the hatch sliding in violent pitching.
Kiwi Roa has a total of sixteen custom built deck hatches and four opening ports, making her very cool in the tropics with good ventilation in all four cabins. This is also important in cool climates to control condensation. Hatches are built with an internal deck coaming so they can be left 'cracked' providing ventilation in all but severe weather. Hinges are elongated so that the four stainless steel dogs can pull tight all four corners when the deck may expect to be under green water. Furthermore, the boat can be left securely with the hatches cracked and the aft dogs engaged meaning they cannot be opened from the outside by less friendly visitors. Construction of the hatches in general is designed to be stronger than the surrounding deck.
The galley hatch opens 'backward' to generate a suction under it and is positioned to extract fumes and steam from the galley. It also gives good views of the masthead and sails when underway, as do the hatches over the sea-going berths. With two compass readings in the saloon, good views of the rig and sails, and the deck house saloon windows giving all-round sea views, the skipper can always be aware of the sailing situation.
Much of the boat's wide transom is dedicated to a Monitor self-steering wind vane, with strong and simple steps mounted to port for aft boarding from the water. 90% of offshore steering is handled by the wind vane, with a Wagner electric/hydraulic autopilot for the other 10% and inshore steering.
Steering is wheel-and-cable, two turns lock-to-lock, all units having been custom built with 250 mm (10″) sheaves, a 610 mm (24″) quadrant, and 8 mm wire and Sta-Lok ends. This system can generally be turned with one finger.
The aft deck is a large working area incorporating two large lazerette hatches, a shallow self-draining fish/dive and petrol stowage locker to port and a dedicated drogue locker with spurling pipe and chain locker to starboard. A manual Nielson windlass with a 12 mm chain gypsy and rope wheel is to starboard with a Rocna 40 (88 lb) permanently mounted on a stern roller for stern anchoring duties.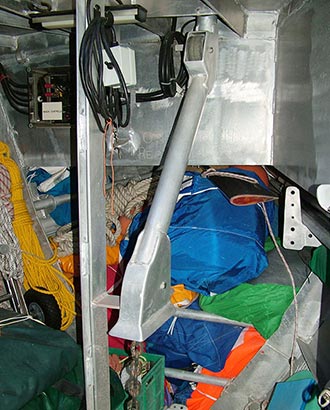 The forepeak was a area that for Peter was not negotiable. It is some 12′ (3.7 m) in length, with an alloy plate compartmenting collision bulkhead including a water-tight alloy hatch separating it from the living areas. This accommodates all six sails needing stowage here, with the genoa on a roller furler and the main permanently bent on. Also sharing the forepeak are seven 100–120 m warps, essential to high latitude and Patagonian cruising; all working sheets and lines; a trolley cart; a parachute sea anchor and a Jordon series drogue; racks for long poles, oars, and a spare roller furler section; spare anchors including a replacement Rocna 55 (121 lb) bower; and all the other things that live in fo'c's'les. The two main anchor rodes are 100 and 50 meters respectively of 12 mm chain, plus 50 and 100 meters respectively of 8-plait polyester spliced to the chain in order to pass over the chain wheels and through the spurling pipe.
Weight in the bow is considered an issue, so the secondary anchor rode passes through a pipe to be stored aft in the bilge adjacent the mast, and no unnecessary items are stored forward if space is available elsewhere. Additionally, the windlass is positioned some 9′ (3 m) aft of the bow, and the main spurling pipe leads the rode from the windlass gypsy a further 3′ (1 m) aft, keeping the major weight back at the collision bulkhead. The final outcome has been very successful. The spurling pipe has large diameter rollers to reduce friction and wear on the chain.
Intruding into the forepeak space are two large foredeck lockers, accessible from substantial aluminium deck hatches. A large wide locker is to port, accommodating working fenders, mooring and dock lines, a salt water wash hose, etc. To starboard, a long and narrow deck locker provides storage for the working headsails: a yankee, no. 1 jib, and staysail, which when folded on deck can easily be moved into their locker. These foresails hank to the main masthead head-stay, which is set 1 m (3′) behind the roller furler genoa, and the staysail hanks to the cutter stay. A baby stay is set aft of that again, resulting in a very efficient four head-stay rig.
Rigging
The aluminium mast stands 20 m above the waterline, deck-stepped with a double spreader rig for reliability and simplicity. (A triple spreader rig with a keel-stepped mast is more efficient, but is much more complex with rigging joints at the spreaders, harder to tune from the deck and hold in column, and inherently more unreliable.) The spreaders are positioned athwartships in order to reduce chafe and allow the main to be fully extended. Aft runners support the mast when under cutter gear. All shrouds go to and are adjustable at deck level, and all terminals are Sta-Lok with custom machined tang toggles to fit the fatter aluminium deck tangs.
The mast section is originally from a 76′ ketch. The complete mast and rigging were constructed by Peter with the same philosophy as the boat's hull: strength, reliability, and ease of maintenance. An advantage of the bigger section is easier building of quality mast head sheave boxes, spreader and shroud hounds, winch bases, the main boom goose neck fitting, etc.
The heavier mast has the advantage of providing 'roll stability' by way of rotational inertia in conditions that have the potential to produce a 360 degree roll; the mast absorbs the first strike energy of a breaking wave. Additionally, with the low aspect ratio keel there is less chance of 'tripping' over the keel when pushed sideways. These factors also result in boat motion which is softer and slower, both at sea and anchor.
Peter feels that modern light and shallow boats with bulb keels, although fast, need to use their speed to sail around weather systems as the very features that make them fast also contribute to a high level of vulnerability if ever caught in survival conditions. This is not the ideal for short-handed cruisers, who need to pace themselves and plan for rest.
The mainsail slide track is a 30 mm section with a separate trysail track added, running to the top spreader. The mainsail and trysail slides are all custom built, each slide 60 mm long and grooved to fit the track, with stainless steel saddles bolted through to which the mainsail is lashed via webbing. With this system Peter found he could fix the three full-length top battens to the slides without any complex and heavy batten cars. Thin nylon sheet is slipped into envelope pockets at chafe points where the battens hit the rigging and is still good after 72,000 NM on the original mainsail. All seams are covered with stitched sailcloth chafe protection at all wear points. Reefing is handled by two decent sized 'slabs' handled from the mast-step with a good sized winch on the aft side of the mast making reefing on either board the same process. Peter doesn't buy into triple reefing mainsails as the norm – a feature of ocean racing yachts who have crew and require much more frequent and finer sail adjustment. The third reef is very hard on the sail and by the time a second reef is too much at sea, it's time to get the sail off completely and hoist a trysail – or, as found on Kiwi Roa in the Southern Ocean, a staysail by itself. From New Zealand to Chile, in the seven days Kiwi Roa was under staysail alone she never made less than 150 NM daily.
Cockpit reefing is also considered dangerous on larger boats. Locking of halyards at the cockpit places all loads on the gooseneck. It is usual to have to go forward to clear something anyway, and if no one is in the cockpit this means running to and from clutches to mast, etc. It's better to get a little wet but be at the mast where the lines and loads are more direct, all halyards are available, the sail and slides etc are all immediately at hand, any problems and snags may be seen unimpeded as they occur, and one is perfectly safe and protected if behind sensible bull bars.
Mainsail control is very important when shorthanded, and Peter uses a system which has evolved from previous boats where a double-purchase foreguy/downhaul/kicker is used either side, running to dedicated winches aft in the cockpit. This means the mainsail is always under control at any point of sail and can never gybe out of control. This system is preferable to a 'break' as the gybe can actually be stopped if unintentional and the boat put back on course. Peter actually gybes the boat using these preventers, changing course until the main has gybed then easing the preventer under complete control. A conventional wire and four part rope kicker is also deployed for twist control when close reaching. The mainsheet and traveler are center-boom with the track across the dodger roof, leaving the cockpit completely free for awnings. The mainsheet winch, traveler controls, and staysail sheet winches are on the deckhouse coaming top under the dodger, dry and safe.
Twin running poles are permanently stowed on tracks positioned on the mast to be in line with the poles when flat running, the outer ends clipped to a bar set on the deck just forward of the baby stay. These poles are some 6.5 m long formed from alloy pipe of a 130 mm section, and when deployed are under complete control via a topping lift, foreguy and afterguy-cum-downhaul. When flat running and up to 20 degrees off flat, the roller genoa can be poled to leeward with the flatter yankee set slightly aft on the main working headstay, feeding air into the genoa. The main can be either at full hoist or with one or two slabs depending on how it affects the headsails. Peter has run for days under this rig doing 200 mile days in the trade winds (see picture) under wind vane and in complete control. Sail reduction in this setup is first to roll some headsail away, then drop the yankee, or roll the genoa completely. The yankee and single slab main configuration is good to 30 knots of wind. With the yankee dropped (but still on the pole) and the main reefed the boat is happy up to 50 knots, depending on the sea state.
The staysail is another very useful sail. It is relatively small, features a tall and high aspect ratio and it adds horsepower at sea (it doesn't find much use inshore), and is also excellent with a single or double reefed main motor-sailing to weather if a long windward punch is undertaken.
Engineering, electronics, and systems
Another non-negotiable in Peter's design concept for Kiwi Roa was the walk-in full size engine room, located to port under the central cockpit. This is where all major systems are located or focussed, and it allows for all maintenance major or minor to be completed in relative comfort without disrupting daily life onboard.
Kiwi Roa is fitted with a Cummins 4B-3.9M naturally aspirated diesel developing 72 HP at 2600 rpm driving through a PRM 160 gear box at a 2:1 ratio. The main prop shaft is 50 mm stainless steel with a Manecraft packless stern gland seal. Ultimately responsible for motoring propulsion is a Brunton Autoprop, a self-pitching semi-feathering high quality propeller which is an ideal solution for sail-assist motoring, a combination often resorted to in restricted channels as found in Patagonia or in other high latitude areas where wind is commonly on the nose and either too strong or nonexistant. The propeller will self-pitch so the motor is always properly loaded no matter what engine or boat speed, optimizing speed and fuel efficiency.
A Yanmar 1GM, a 10 HP single cylinder marine engine (converted to fresh water cooling which is passed through a 55 L hot water cylinder) is fitted as a DC generator. This engine can be started both manually and electrically, meaning there is always enough power to start the main engine. A belt drives a 190 amp alternator as a main charging unit, a Bock 1.5 HP open belt drive refrigeration compressor, and a 50 mm Jabsco emergency collision pump. No solar panels or wind generators are deployed; Kiwi Roa has a 140 L (5 cubic feet) fridge and a 200 L (7 cubic feet) deep freeze using eutectic holdover plates. This requires the power of a direct-drive compressor; an hour morning and night from the generator keeps batteries charged and provides hot water in addition to holding the refrigeration down. On shore power the compressor is driven by an AC electric motor, and hot water by an element in the cylinder.
A 2 kW trace inverter is used when AC is required away from shore. This unit is also a 125 amp battery charger when on shore power, which is fed via a 5 kVA step-down or step-up isolating transformer providing 230 V from 110-240 V dock outlets, but, more importantly, isolating the aluminium hull from any potential problems with shore, dock, or other boats' wiring.
House batteries are two 12 V 260 Ah AGMs, with an additional 110 Ah engine start unit. This capacity has proved sufficient with an average lifetime of nine years. Cycling never gets below 20%. However, more capacity would make for more efficient charging.
DC charging is controlled by an APC three-step regulator and all three alternators (190 A main, 35 A on the generator, and 100 A on the main engine) are connected with field control rheostats which can bypass the standard regulators for emergency charging, or if a regulator fails. This is also handy in that if the house batteries are almost flat for some reason the main alternator kicks in at a full 190 amps and stresses the whole system (and can even stop the generator if it is not running near full throttle). A soft start is accomplished by using the rheostat for a few minutes at a lower amperage input, until voltage has started to rise.
All wiring is as specified to equivalent commercial and naval standards. Multi-strand, flexible, tinned, double insulated, and both fire and oil proof. It is both expensive and heavy but will outlast the life of the owner. All wiring is run in accessible conduits under the side decks. A twin wire above-ground system has been used. Heavy feeds run from the appropriate thermal hydraulic circuit breakers at the switch panels to waterproof junction boxes in the appropriate areas, where individual feeds run to lights, fans, 12 V outlets, and other appliances. Heavy wires run to a secondary panel amidships for more efficient supply to areas farther away from the main panel. Wiring is sized so voltage drop is insignificant – for example four cables of 200 mm² are run to the anchor windlass, giving no appreciable voltage drop nor hot cables when the windlass is under maximum load (which can be as much as 350 A at stall).
The house and engine start batteries are separated by three-way make-before-break heavy duty 500 amp switches. However these can be switched so any engine and/or alternator can charge or start any system. Both engines, the inverter, and the windlass go through 500 amp hydraulic circuit breakers protecting against the unlikely chance of a heavy main cable breaking and touching the hull.
A 25 L header tank for diesel is mounted in the engine room as a feed to the Dickinson Antarctic heater and as an emergency fuel supply in the event of engine fuel lift-pump failure or a short term fuel line air leak. The header tank can also be used as a second settling station to clean fuel of water and sediment in the case of severe contamination via its own sump setup.
The main 1200 L fuel tank is a long deep narrow tank fore-and-aft on the boat's centerline, with a central sump. This allows all fuel to be used without the introduction of air regardless of heel or sea conditions. All off-takes come from halfway up the sump with a 25 mm diameter scavenger pump feeding off the bottom. This is a nitrile diaphragm hand pump situated in the engine room, with a three-way valve feeding an outlet in the engine room for drawing off bulk fuel (which also cleans the sump and fuel tank) or filling the header tank. Periodically fuel is drawn off into a glass jar and allowed to settle to check for contamination.
Only one thru-hull is fully below the water line – this runs to a custom sea chest from which all underwater fittings and hoses are run. A coarse strainer is on the exterior and the sea chest itself has a finer final filter with a 4 mm diameter mesh so as not to create problems in waters with high algae, plankton, or sediment content. The sea chest has a 12 mm Perspex frontal inspection panel and can be maintained in the water.
The three other thru-hulls are outlets, and these exit at the waterline through the hull's second chine; with 150 mm tails the Marelon valves are actually some 100–150 mm above the water. This means the boat is not vulnerable to thru-hulls when left unattended.
Adhering to the easy maintenance philosophy, toilets are vacuum Lavacs, quality units with hand-operated diaphragm pumps which double as holding tank and bilge pumps via Y-valves.
Interior
Most of the boat's joinery and woodwork is of teak, to a very high standard. Four logs of Thai teak were purchased and machined to specification. Peter was able to hand-select all the teak-faced finishing plywood from Bruynzeel and then selected timber from the logs to match in colour and grain as construction progressed. This was also very efficient as the relatively inferior teak and off-cuts could be used up in less conspicuous areas. A problem with teak is that it is a heavy and dark timber so the traditional look, although desired, can be rather gloomy on dull days.
All the deck heads (ceilings) are matched quarter-sawn hemlock (a light honey colour) selected with a straight pencil grain and installed as slats running fore-and-aft – a very effective and pleasant feature.
After installation of all structural members, bulkheads, wiring etc, and the aluminium given a protective coat of epoxy, the hull was foam sprayed to above the inner level of all grounds and stringers. This was then hand-faired back to the stringers before being covered with a thin plywood liner epoxy sealed and glued to the foam and timber grounds. This means no voids or spaces behind the liner, making the hull not only very quiet but also safe from vermin such as cockroaches. With no place to hide they are relatively easily controlled if ever infested. Interior joinery was then built out from this liner after bulkheads were installed.
Fourteen liters per coat of varnish were used through the complete boat, with a total of seven coats – a big job which has withstood 15 years very well (but does need a little touching up now).
All cabin doors have the top two fifths louvered, as do all hanging locker and toilet doors. This means continuous ventilation flow even with the boat all closed up.
The main double sleeping cabin is forward of the mast. Peter prefers this, as with two hatches ventilation is excellent and the occupant is more 'in tune' with the boat by way of anchor noises and motion. Sleeping aft places the skipper where he is distant from and not so in touch with these feedbacks, and also the worst location in the boat for ventilation (no matter how big the hatches).
All hatches have a laminated teak hinged mosquito/fly screen which clips up under the deck head. A thin rubber gasket is housed in a shallow groove. In cold climates these are closed on a square of bubble wrap or light plastic insulation material to insulate and double glaze the hatches and aluminium coamings. This is extremely effective. The screens are in constant use either for insulation or to keep out flying insects, cockroaches, or even rats and animals if they are a possibility. Don't laugh, it happens more than you would think…
Cooking is on a fully gimballed three burner kerosene stove with a fixed oven. This is not as convenient during use as gas but Peter prefers it. Kiwi Roa carries 125 L in a hull tank, plus a couple of spare 20 L containers. This gives 18 months between fill-ups, so kerosene is only purchased when top quality fuel is available and convenient. Jet 1-A aviation fuel is sometimes mixed which is occasionally more readily available and burns slightly hotter. The kerosene can be used for cleaning, as it removes grease very efficiently; it can be added to the diesel in emergencies (stops waxing in sub-zero temperatures); has a higher BTU rating than gas; and at a pinch the stove will run on diesel. There is no chance of the boat blowing up, no rusty gas containers to store and fill periodically with the numerous adapters required, or different cylinder test regulations to negotiate, and the boat need not have its itinerary dictated by the location of gas facilities.
Kiwi Roa